campground
ANNOUNCEMENT: Campground reservations on November 16 starting at 8 am PT are available ONLINE. Due to COVID 19 restrictions, Keller Ferry Campground is still in Phase 2. We are not able to open bookings to full capacity. The Group Sites and Tent Sites (sites 1-13) are closed as well as the odd-numbered sites in Overflow. The Loop sites 14-40 and Overflow sites even numbers will be open to self-contained RV's. Along with the self-contained RV, one tent is allowed at those sites.
Lake Roosevelt Adventures is thrilled to present Keller Ferry Campground, one of the most scenic, serene and captivating camping locations in the Pacific Northwest. Spectacular access to water sports, the very best in freshwater fishing, perfect weather, and stunning views are just the tip of the iceberg at Keller Ferry. Take a short walk to our docks and fully-stocked marina store where you can rent our exclusive 17 ft. Triumph fishing boat with 40 HP.
New 2021 Cancellation Policy
Cancellations are required 2 weeks (14 days) prior to your arrival.  Should you cancel within the 2-week cancellation policy, you will forfeit 50% of the advance deposit.  Cancellations prior to the 2-week policy are subject to a $25.00 (plus tax) fee.
The Newly Renovated Keller Ferry Campground Features:
All dry sites (no hook ups)
Perfectly located restrooms
Seasonal Outdoor Beach Showers
Public swimming areas
Tree-covered picnicking areas
Tent-only sites available
Fish cleaning station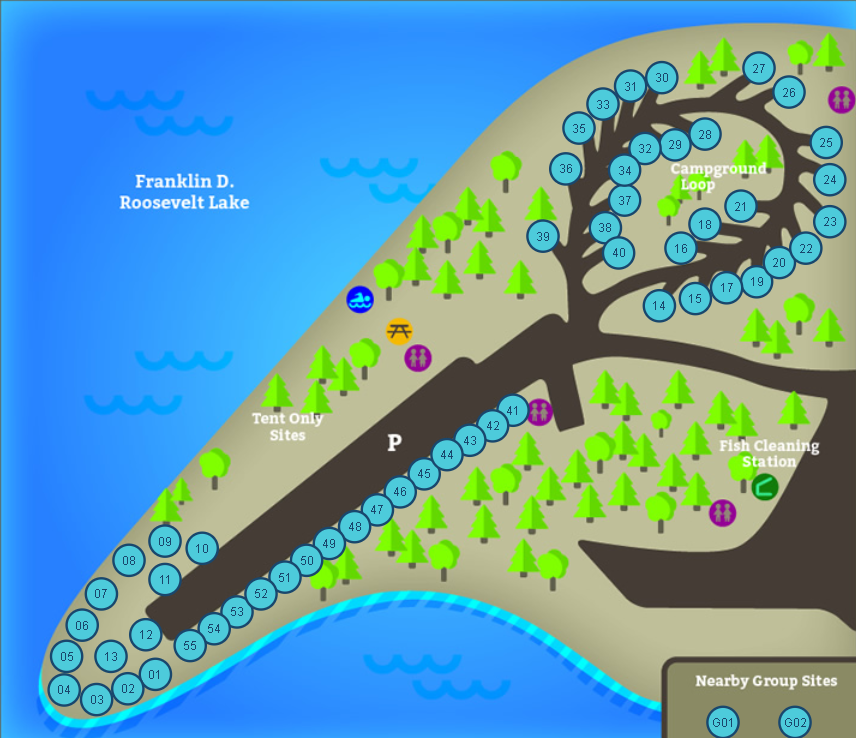 Campsite Size Legend
14 LOOP – 35ft Max length
15 LOOP – 35ft Max length
16 LOOP – 37ft Max length
17 LOOP – 38ft Max length
18 LOOP – 35ft Max length
19 LOOP – 33ft Max length
20 LOOP – 33ft Max length
21 LOOP – 39ft Max length
22 LOOP – 31ft Max length
23 LOOP – 34ft Max length
24 LOOP – 32ft Max length
25 LOOP – 30ft Max length
26 LOOP – Waterfront, 38ft Max length
27 LOOP – Waterfront, 34ft Max length
28 LOOP – 37ft Max length
29 LOOP – 33ft Max length
30 LOOP – Waterfront, 30ft Max length
31 LOOP – Waterfront, 38ft Max length
32 LOOP – 36ft Max length
33 LOOP – Waterfront, 38ft Max length
34 LOOP – 42ft Max length
35 LOOP – Waterfront, 34ft Max length
36 LOOP – Waterfront, 38ft Max length
37 LOOP – 36ft Max length
38 LOOP – 43ft Max length
39 LOOP – 26ft Max length
40 LOOP – 43ft Max length
41-55 OVERFLOW-18ft Max length